Hyohyo

Characteristics

Race

Cute

Age

Unknown

Traits

Complexion

Soft plant

Eye Color

White

Professional Status

Affiliation(s)

Issoudan (indirectly)

Occupation(s)

Wonderful person

Personal Status

Status

Alive

Friend(s)

Media

First Appearance

My Name Is Warp
Hyohyo is a character in the animation, Kaiba. She first appears in "The Name is Warp."
Abilities
Edit
Hyohyo is able to fly using two vertical limbs on top of her head that act like a helicopter propeller (her legs can be used in the same way.) She is capable of carrying weights much larger than herself using her mouth or legs while flying.
Hyohyo is limited in verbal communication. She is only able to speak her own name, "Hyohyo," but her expressive variation in tone of voice is usually able to convey her message.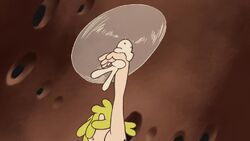 Appearance
Edit
Hyohyo is a yellow-green (occaisionally white in animation) creature; her body shape is similar to a bell with ribbons or a sprouting plant.
When Popo discovers Neiro's growing relationship with Kaiba, he orders her memories of him to be removed. These memories were secretly transferred to Hyohyo's body by Kichi.
Personality
Edit
Hyohyo possesses Neiro's caring nature and love for Kaiba; she remains with Kaiba throughout most of the story risking her life numerous times in the process.
Episode appearances
Edit
Other notes
Edit
Hyohyo's name most likely derives from the Japanese word for "blowing/aimlessly" (飄飄).
References
Edit
Gallery


Click here to view the gallery.